Levels Taught – Beginner, Novice, Improver and Advanced. Methods Taught – All methods of generating lead are taught, more importantly Roger works with individuals to enhance their natural shooting method and style and goals. Rental Guns - over and under guns in 410, 28, 20 and 12 gauge are available.
Locations – Roger will come to your home ground to coach, or by arrangement, will travel to other courses with you to work on their targets.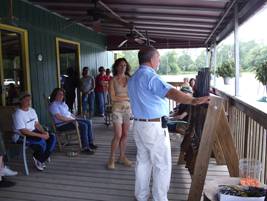 Lessons can be one hour, half day, or multi day and can be:
Private lessons
Group lessons, clinics and
Corporate events
Private lessons are availabe for 1 to 4 people at $150 an hour, based on the time spent not the number of people. Group lessons of 5 to 20 people can be arranged either for beginners or more experienced groups
At a first lesson, before shooting Roger will check the fundamentals of:
Safety,
Eye dominance,
Gun selection,
Ammunition and choke selection,
Gun fit,
Gun mount, and
Stance
Then we will go break clays !